Tool Flute Grinder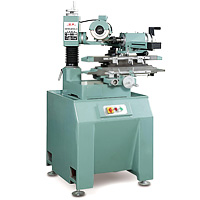 Tool Flute Grinder
Product ID: RF-32
For Grinding Flute, Side-face and End-face
Three Functions in One!
Specifications:
Standard Accessories

Wheel Dresser 1 pc
Allen Wrench 1 set
Cross Head Screwdriver 1 pc
Box Spanner 1 pc
Oil Can 1 pc
Tool Box 1 pc
Operation Manual one copy
Features:
Designed for grinding spiral and square flutes of tool.
Fast and easy to set helix angle (with a corresponding table for setting reference).
Allows for grinding spiral and tapered flute.
The grinding device for helix angle moves on linear ways with blocks that provides clearance free grinding for increased accuracy.
Grinding for flute, side-face and end-face is conveniently made by only one chucking of tool.Diameter range Ø2~220mm.
Diameter range Ø2~220mm.
Indexing table with 24 indexes.
Suitable for grinding right and left spiral flute.
Grinding wheel rotates clockwise and counter clockwise.
See more complete detail
| Model | RF-32 |
| --- | --- |
| Table Longitudinal Travel | 180mm |
| Table Cross Travel | 140mm |
| Grinding Head Vertical Travel | 150mm |
| Column Swivel | 360° |
| Grinding Head Swivel | 360° |
| Internal Taper of Spiral Device | MT4# |
| Helix Angle | 0°~90° |
| Table Area | 460x130mm |
| Grinding Wheel Size | 150x19.31.75mm |
| Motor | 1/3HP, 220V/380V |
| Wheel Speed | 3,450RPM |
| Weight | 500kgs |
| Packing Dimensions | 1000x1000x1600mm |
Order Information:
Minimum Order: Negotiable
OEM/ODM Product