Nut Tap Grinder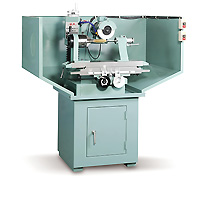 Nut Tap Grinder
Product ID: RF-23-1
Tap Size Range Ø3/8" ~ Ø1-1/4"
Precision Grinding!
Easy to Operate!
Specifications:
Standard Accessories

Wheel Dresser 1 pc
Allen Wrench 1 set
Cross Head Screwdriver 1 pc
Box Spanner 1 pc
Oil Can 1 pc
Tool Box 1 pc
Operation Manual one copy
Features:
The most convenient and fast setting of flute number.
Tool is clamped by a 6-jaw chuck and center unit.
Allows for grinding tap with 3, 4, 5, 6 flutes.
Right/left slide can be adjusted in up/down and right/left directions.
Suitable for grinding Ø3/8" ~ Ø1-1/4" tap.
Equipped with coolant system and coolant guard.
Precision constructed throughout exhibits high accuracy grinding operations.
See more complete detail
| Model | RF-23-1 |
| --- | --- |
| Table Longitudinal Travel | 180mm |
| Table Cross Travel | 140mm |
| Grinding Head Vertical Travel | 150mm |
| Column Swivel | 360° |
| Grinding Head Swivel | 360° |
| Distance Between Centers | 250mm |
| Table Area | 580x130mm |
| Grinding Wheel Size | 150x19.31.75mm |
| Motor | 1/3HP, 110V/220V/380V |
| Wheel Speed | 3,450RPM |
| Weight | 270kgs |
| Packing Dimensions | 1200x1400x1500mm |
Order Information:
Minimum Order: Negotiable
OEM/ODM Product