Universal Tool Grinder (Bench Model)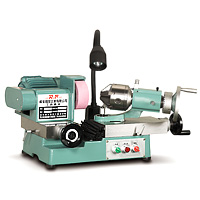 Universal Tool Grinder (Bench Model)
Product ID: RF-12A
Innovative Flute Number Setting.
Maximum Convenience!
Fast to Set!
Changing flute number of the tool only requires a simple adjustment without the need to change cam and lock pin.
Specifications:
Standard Accessories

Wheel Dresser 1pc
Allen Wrench 1set
Cross Head Screwdriver 1pc
Box Spanner 1pc
Oil Can 1pc
Tool Box 1pc
Operational Manual one copy
Features:
The most convenient and fast setting of the flute number is an innovative features.
It is not requested to change cam and lock pin (patented).
The work head employs a 6-jaw chuck for clamping tool.
Suitable for grinding tool with round shank.
Allows for grinding 1,2,3,4 flutes tool.
Ø2~Ø32mm tool shank.
Equipped with working light.
See more complete detail
| Model | RF-12A |
| --- | --- |
| Table Longitudinal Travel | 140mm |
| Grinding Wheel Size | 125x50x31.75mm |
| Motor | 1/2HP 110/220/380V |
| Wheel Speed | 3000~5250 RPM |
| Weight | 95kg |
| Packing Dimensions | 700x600x400mm |
| Face Angle | 90°~180° |
| Cutting Angle | 0°~18° |
| Indexing Plate | 1~36 Index |
| Max. Chucking dia. | 32Ø |